Industry-Leading Solutions for the Patient Engagement Journey
The success of any patient engagement technology hinges on its ability to meet the dynamic needs of providers and patients via multi-channel, secure, and flexible outreach. TeleVox offers communication solutions that are designed to address these requirements today and into the future, along the entire patient engagement journey.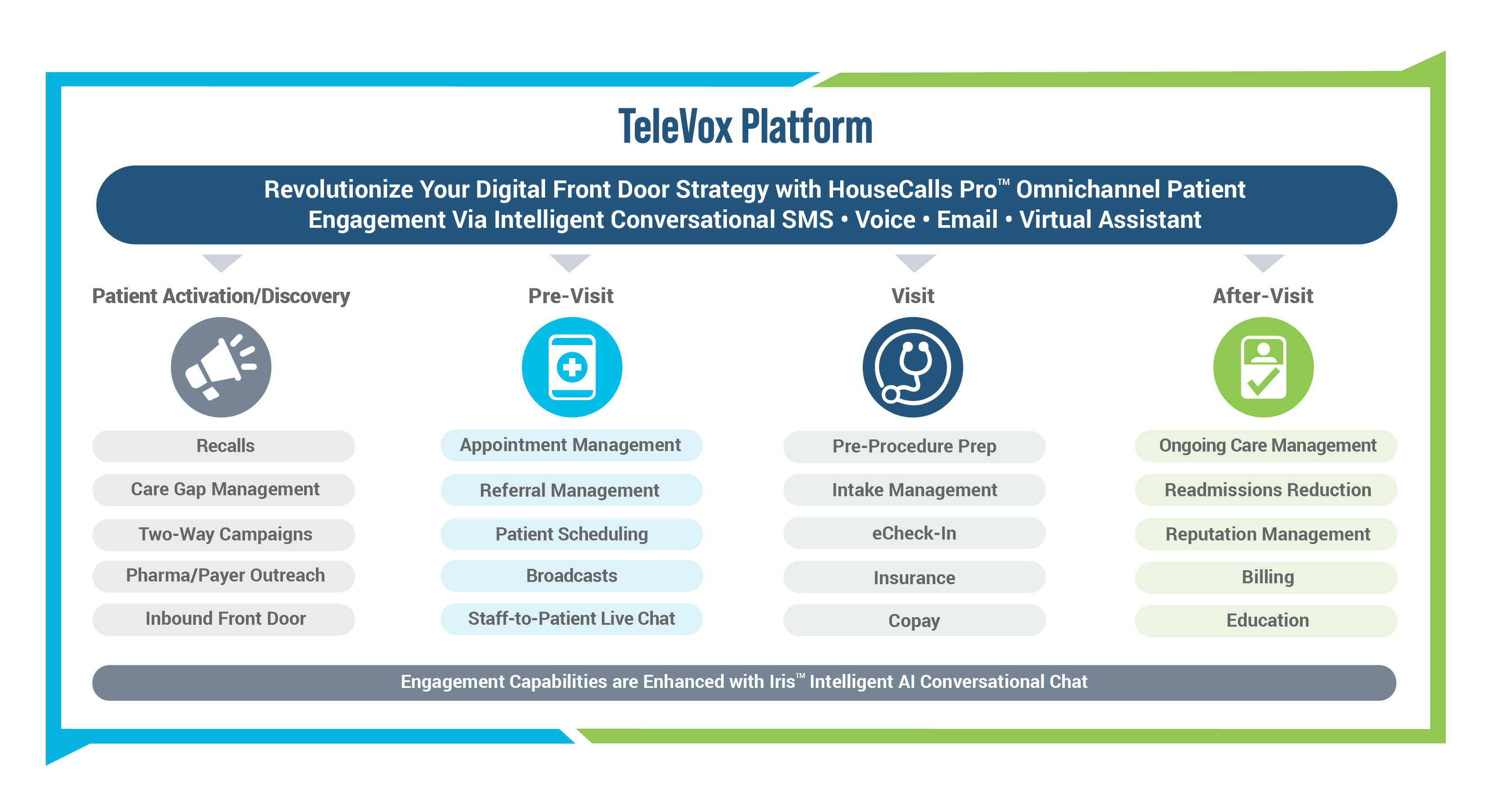 Keeping patients informed about recommended preventive care, routine screenings, vaccine availability, and eligibility can place a high burden on your staff. TeleVox streamlines and automates outreach throughout the entire patient engagement journey, freeing up staff time while encouraging patient activation.
TeleVox technology is an ideal solution for helping care teams stay connected with patients at multiple points in their treatment journey. Whether a patient has been discharged from the hospital, missed an essential care procedure, or has been diagnosed with a serious health issue, our patient activation solutions (including recall, referral, and other automated, two-way campaigns with Live Connect) can help close care gaps.
Nearly all millennial patients want two-way communication with their healthcare providers, so your organization can truly stand out from the crowd by integrating this capability within the patient engagement journey. TeleVox enables a wide variety of two-way campaigns that offer self-service features like appointment management and referral closure, driving better patient satisfaction in the process.
TeleVox patient activation and engagement solutions also support automated communications that encourage vaccine treatment awareness and medication adherence. We help healthcare organizations and partners like pharmaceutical, life sciences, and payer services (and more), meet these patient outreach goals.
With more patients than ever demanding easy, accessible, and digital connection to their healthcare teams, the TeleVox virtual assistant is well positioned to offer a true digital front door for inbound patient inquiries. Patients can reach their care teams via web, SMS text, or voice.
The advanced patient engagement workflow technology available from TeleVox makes closed-loop appointment reminders Patient scheduling actions like appointment confirmation, cancelation, or even rescheduling are done right from a text message. And these updates are documented directly in the EHR in real-time, reducing the manual burden on staff and improving no-show rates.
We can help modernize this historically time-consuming, complicated process of managing referrals, while decreasing staff involvement, promoting continuity of care, and reducing revenue leakage. With TeleVox, automated, personalized outreach keeps patients in the loop and allows for easy, digital patient scheduling.
TeleVox offers EHR-integrated patient scheduling that allows individuals to look up, schedule, and reschedule their appointments via voice call, text message, or with an online virtual assistant. Our fully automated, closed-loop appointment workflows don't just ease the manual work required of staff to manage appointments, they also save patients the time and hassle associated with calling your facility, navigating a phone tree, or waiting on hold.
TeleVox enables patient communications on the fly so your organization can react to ever-changing care delivery needs like office closures, inclement weather, or changes to check-in procedures. TeleVox also uses automated texts and voice calls to reach all patients at once with the broadcast function.
You can rely on TeleVox's live chat function for two-way, text-based interactions between staff and patients. As patient scheduling needs arise or staff members need to follow up with post-care instructions, this personalized communication method puts your organization in direct contact with patients.
Avoiding bad prep and last-minute cancellations while lowering readmissions is as simple as engaging and educating patients before their procedures. TeleVox powers outreach in the right channel and at the right time to help patients follow their care plan, while also improving recovery time, medication adherence, and attendance at follow-up visits.
The TeleVox platform allows for management of all patient intake activities under one dashboard. Healthcare teams can view each individual's status along the patient engagement journey, moving through the intake process and addressing patient needs immediately.
Our digital tools make filling out questionnaires like medical history, HIPAA forms, and other routine patient intake documents totally seamless for healthcare staff members and patients alike.
Facilitating insurance information, conducting payer verification and eligibility checks doesn't have to add to your teams' workload. TeleVox streamlines insurance-related processes during the patient intake process so patients can access the care they need even quicker.
And once insurance information has been verified, TeleVox allows patients to easily pay amounts due, such as copays or coinsurance digitally.
Because the TeleVox platform supports the entire patient engagement journey, we can support your organization's care management programs for conditions like diabetes and cancer, as well as facilitate ongoing maternity care, IBS/IBD care, and more, all through our digital platform.
And given the potential for care management programs to improve outcomes in patients with chronic illnesses, our tailored digital engagement programs for CHF, COPD, pneumonia, postpartum, and post-surgery care can reduce the likelihood of hospital readmissions.
Our product provides an automated platform for collecting and managing patient feedback, making it easy for healthcare providers to track trends and identify areas for improvement. With powerful analytics, providers can enhance their reputation, attract new patients, and improve the quality of care.
Healthcare payments don't have to be a pain for patients or your staff members. TeleVox's platform enables right-time, omnichannel notifications that make it simple for patients to pay their bills. And balance reminders increase the chances of collection of healthcare payments.
TeleVox also supports the patient engagement journey with education campaigns. Our digital solution engages patient populations with materials like vaccination information, chronic illness management, post-care and readmission reduction programs, and other digital engagement initiatives.
Utilize the power of TeleVox digital care programs to streamline chronic disease management, surgery preparation and recovery, allowing care teams to prioritize high-value patient care, while reducing readmissions and financial costs.
TeleVox Survey Solution is a powerful tool that allows healthcare providers and health systems collect valuable feedback from patients, staff, and other stakeholders. It offers a wide range of features and customization options, including a drag-and-drop interface and detailed analytics.

"Adopting the HouseCalls Pro platform has endeared us to our operations and executive teams. ACPNY has implemented a variety of automated workflows and over twenty Epic-event-based messages. We also love the self-service capability and on-demand broadcast messaging."
"Since adopting HouseCalls Pro to capture real-time, self-reported patient information via SMS and record that in Epic, we have continued to expand the use of automated workflows. The configurability of the system and the service provided has been excellent."

"Recently, a whole practice had to move. HouseCalls Pro provides tools that send reminders out, so we didn't have a time delay to send out customized messages. We didn't have to wait for TeleVox's staff to build something. That helped our practice because we didn't have to reach out to each patient to let them know where the new location was. Reaching out to each person would have cost a lot of money, so TeleVox's system has saved us a lot of money. Everything ties into the finances. With this solution, we can utilize our time for other things. Our patient turnover would cost us in the long run if we weren't utilizing the time slots and the follow-up program. Patients have come back, and we have made them aware that they need to be seen for things. The solution has definitely had a positive financial impact."

"TeleVox's greatest strength is customer service. When I have questions or need somebody to intervene, I get very good responses from my account manager. That individual is excellent and always checks on us to see whether there is anything they can do."

"I really believe in the HouseCalls Pro product, and I regularly engage in networking with other people that use the system. I am a big fan of the platform and the framework on which the platform is built."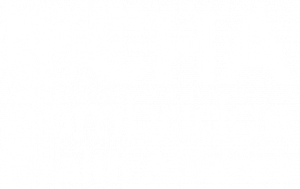 The Patient Family Notifications workflow has helped a lot with logistics. Especially since we have limitations on people entering the hospital due to COVID protocols. It has really helped coordinate with rides. Family members drop the patients off and eventually they get the message that their family member is in recovery and know it's time to head back into the hospital to pick them up. That is very helpful.